About Us
1949 founding of the tool - shop department as a part of the holding company TESLA
1992 privatization - founding of RONAS s.r.o.
1995 foundation of the injection moulding department - mould sampling
1999 launch of a new injection moulding department - mould sampling + serial production
2014 RONAS s.r.o. became the part of KOH-I-NOOR holding a.s.
2014 construction of a new warehouse for the operation of the injection moulding department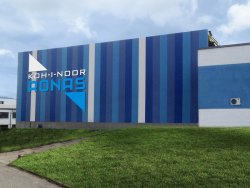 In 1992, the company RONAS, as well as other thirteen companies, split from the holding TESLA. Originally, TESLA was located in the city Rožnov pod Radhoštěm and focused on the production of black and white and colourful television screens and on the production of various electronic components. The market experienced significant changes since the foundation of the company RONAS s.r.o. However, RONAS successfully managed to adapt to these changes and experienced a very dynamic development. The company is the holder of important certificates such as ISO 9001, IATF 16949 and of the Environmental Management Certification ISO 14001.
KOH-I-NOOR RONAS is divided into two divisions - tool - shop department and injection moulding department.
Complex Solution
The company KOH-I-NOOR RONAS has extensive experience in the field of injection moulding and, therefore, it can offer comprehensive services including the development of a moulding, structural design of a mould as well as its moulding and assembly. The moulds for external companies are tested in our company and, consequently, we recommend our clients suitable solutions for series production moulding. Moreover, our clients can count on professional maintenance and repair service. There are many important automotive industry suppliers located in the Czech Republic and, therefore, KOH-I-NOOR RONAS sells 60% of its production to the domestic market. Moreover, the company has established a firm business relationship with Germany.
Prosperity and Investment
As one of the latest massive investments carried out in KOH-I-NOOR RONAS, CZK 100 million was expended on furnishing the pressing shop during 2005-2006.
Funds continued to be invested in machinery in 2014, when ca. CZK 27 million in total was invested - a new sinking CNC machine from company CHARMILES and CNC machining centre HERMLE were put into operation. In addition, a new injection press ARBURG was procured and certain presses were fitted with automation equipment to fill inserts and check parameters of pressed parts. Further investments were directed at the quality control section, which was equipped with a new helium leakage tester.
The amount of ca. CZK 37 million was invested in 2015, when the development of a new warehouse for the pressing shop of plastic materials was completed for ca. CZK 15 million. Moreover, the project for increasing production competitiveness and productivity continued in 2015 with respect to the company's stock of machinery, when new productive machines were purchased - two CNC machining centres and a wire cutting machine for the tool shop. The pressing shop was furnished with another injection press and one press was fitted with automation equipment for feeding inserts. Other investments headed for the quality control section, where a new control station to check inserts for leakage was procured for the pressing shop and a new optical measuring device was installed in the tool shop. Since 2021, the new AgieCharmilles FORM P 600 has been operating with VDI0 excavation technology. In injection moulding shop there were invested in two new vertical injection with a closing force of 50 tons. New machining center Exeron HSC 600/5 was purchased for the tool shop at the end of 2022.
TERMS OF PURCHASE - Plastic Moulding Shop.pdf
GENERAL TERMS OF PURCHASE .pdf
DECLARATION ON PERSONAL DATA PROCESSING.pdf
Supplier quality agreeement.pdf